Spotting Tips
Looking for tips from the pros? You've come to the right place.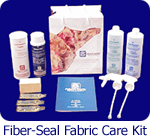 Maintenance Tips (Consejo de Mantenimiento)
Floor Coverings - Spot Removal Guide (Coberturas de Pisos)
Above-the-Floor - Spot Removal Guide (Superiores al Piso)
Ask for Help
We are very proud of our technical expertise at Fiber-Seal. Our thirty-plus years of experience with high-end fabrics and floor coverings help us to answer questions that leave other companies scratching their heads. If we don't have the answer right away, we'll do our very best to find it for you.
Simply fill out the form below and we will get back to you promptly. Thank you!
If You Have an EMERGENCY, Call (216) 581-4144